12 Companies That Secretly Rip You Off
Advertisement
The average person is determined to maximize their salary by finding deals and
discounts but corporations are well aware of this tactic
and create products to intentionally confused and over charge their customers,
from under field chip bags to Overhyped precious stones. 
The world is full of scams, today we're looking at 15 industries that actually rip you off your money on our list of
12 Companies That Secretly Rip You Off 
12. Diamonds
Diamonds are the stones most closely associated with wealth and prosperity.
Advertisement
Most people have the perception that diamonds have been an integral part of human culture for millennia but it turns out they are just a result of a century old marketing scam.
The  Debeer's corporation was founded in 1888 with mining operations in South Africa,
Namibia and Botswana.
Before this moment, the concept of exchanging engagement rings wasn't even a common custom in
most of the world but after a 1938 ad campaign spearheaded by Debeer's Americans
And Europeans began to embrace the tradition but not only is this ritual contrive,  
de beers and other diamond distributors intentionally restrict the release of their stock to create the illusion of scarcity.
Advertisement
The fact is diamonds are extremely common minerals,
with a full supply release to the public,
the price would plummet but Debeer's and their elk stock pile these precious stones in order to rip off the public. 
READ ALSO: 10 Animals That Can Live After Death
11. Bottled Water
There's nothing quite like the feeling of pure ice cold hydration.
Some of us get our water for free from the tap but the rest pay for it at the cost of roughly $100 billion
a year and the number of people getting their water exclusively in bottles Is growing at a rate of 10% a year.
The first issue is that bottled water is 300 times more
Advertisement
expensive than tap water and then there's the fact that most of the biggest brands including Aquafina
and Nestlé pure life are actually filled from the tap as well, in fact a recent report found out almost half of all bottled water is actually derived
from the tap meaning that they are up charging customers 30,000% for the same product.
Add to this, the horrific environmental impact of millions of tons of plastic
dumped into landfills and bottled water is easily one of the biggest corporate ripoffs in history. 
Advertisement
READ ALSO: Top 15 Richest Rappers Of 2019
10. Lotteries
It comes as no surprise that the average person has Minuscule chance of winning the lottery,
the chances of winning a top prize in the average lottery are almost 68,000,000 to 1 but in some cases there is literally no chance that people can win,
that's because most lotteries continue to sell tickets to unknown customers Even after the price is already been distributed and then
there's the quick pick tickets sold through Powerball lottery,
these tickets are intentionally printed without the winning numbers so you only stand a chance of winning if you choose your own numbers.
Expects advice that the average person would have better luck placing their money on any random stock or bond,
the chances of this investment appreciating our millions of times more likely than on a lotto ticket. 
Advertisement
READ ALSO: Top 10 Strangest Cars Ever Made
9. Career Sites
It's no secret that sites like monster and CareerBuilder are not effective for finding a high-quality long-term job. 
Most of the best jobs never even make their way to job boards but it turns out this game goes even further,
most of these companies will sell your information In order to turn a profit, even if you never find a job in the process,
this can lead to more serious scams for example many users will receive emails with reference personal information obtained from
these job sites they will then offer the user Job only to scam them into transferring money to pay for a background check or training done.
Though they can seem tantalizing to the unemployed, most job sites are actually a recipe for disaster. 
Advertisement
8. ATM Surcharges 
Consumers hate all kinds of things but the idea of being charged to access your
own money in the form of ATM fees can elevate the frustration to a new level. 
But consumers learned in 2016 that the ATM fees charged by many big banks are not merely annoying but that they violate antitrust laws,
it's hard to tell just how much ATM operators may have overcharged every day consumers for accessing their money over the years.
The average ATM fee hits a new record high each time it's measured.
Advertisement
READ ALSO: Top 10 Youngest Self Made Billionaire Of All Time
The latest bank rate survey found out that the average customer using an out of network ATM will pay a total of $4.57 in
fees with an average of $2.90 going to the ATM owner and another $67 Going to the customers own bank. In many cases,
the consumer is only taking out $50 or less meaning they are paying a roughly
10% fee just for the service of accessing their own money. 
7. College Textbooks 
Most people already know that the American higher education system is needlessly expensive, US universities cost more than 500% more than the average college elsewhere on earth,
even including prestigious names like Cambridge and The Sorbonne, today over 44 million Americans hold a total of
$1.4 trillion in student debt but this debt doesn't just come from the greatest tuition and fees,
a huge percentage results from grossly overpriced textbooks.
Advertisement
Often times textbooks cost hundreds of dollars and colleges explicitly prohibit the purchase of used textbooks, if they do allow used textbooks,
classes often require the purchase of a one time use code
which leads to supplementary materials most of which are never actually used.
And an even more devious cases, professors will assign their own textbooks or the textbooks of their friends in order to reap the benefits from this corrupt industry.
A handful of students have sued University in the last few years,
demanding the option to study for an affordable price but these cases are still working their way through the court system. 
Advertisement
In the meantime, many students are turning to
downloading free PDF textbooks online in an effort to get through college without Massive debt. 
READ ALSO: Top 10 Tallest Buildings In The World
6. Electronics Companies 
Apple is the second most valuable company in the world and those several other competitors of a similar products, none come close to the market capitalization.
That's because Apple has a series of stringent policies meant
to rip every last cent from their customers. 
The first is the massive over pricing of their products, when accounting for costs Apple charges as much as 800% more for their
products than for the costs of parts, labor, transportation and marketing. And then there's the issue of accessories,
Apple makes their products incompatible with other charges
and add-ons meaning you need to buy their overpriced gadgets. 
Advertisement
Lastly is a phenomenon called The obsolescence,
Apple has admitted to hardwiring that products to lose battery life and malfunction after only a few years, this creates the illusion that
your device is failing forcing users to buy a new product. Thus, boosting the astronomical Profits. 
It's easy to sympathize with the Starbucks customer who is suing
the coffee giant for providing two little Java in its grande, Venti, Trenta and tall iced coffee's.
After doing the math on iced coffee,
studies revealing that a 12 ounce cup of the conversion should be a dollar less than the hot version,
that's because the ice in Frappuccinos which is virtually free
displaces much of the coffee and other ingredients which are actually expensive,
Of course the courts ruled that this was not illegal but that doesn't
mean it isn't unfair, many customers are willing to pay more
for their coffee in order to guarantee that farmers are making a
living wage and beans are collected in a sustainable way.
Advertisement
READ ALSO: 10 Things You Didn't Know About BMW
But That is simply not the case for Starbucks and other corporate coffee behemoths. 
4. Fad Diets
The next time you watch an infomercial read an advertisement or spot a new supplement reporting miraculous weight-loss results,
Be wary that the company behind it may not have your best interest in mind,
when evaluating claims for weight loss products,
the federal commission recommends a healthy portion of
skepticism and most don't come close to fulfilling their claims and in
the rare case Where a product might result in some
temporary weight loss it's almost never a permanent solution and is usually on safe. 
There is no known diet regimen that makes people skinny without exercise or dietary changes
so any company Cording to have these qualities is lying and it gets worse,
more than 50% of diet study are actually harmful to participants. 
Advertisement
READ ALSO: Top 10 Strangest Facts About The Titanic
3. Glasses and Contacts
The glasses and contact industry in the United States is considered a scam by many consumers. 
Here's how it works, in the US, contact lenses are regulated
no matter how old you are or how long it's been since your vision has changed,
you need a doctor's prescription less than one year old to be able to order Contact but in reality,
consumers need to check the prescription much less
frequently and this only leads to a multi hundred dollar fee for the optometrist and
the glasses manufacturer and the frames are massively overpriced as well. 
According to History insider, you can get amazingly good frames
with Warby Parker level of quality for 4 to 8 dollars.
For $15 you can get designer quality frames like what you get from Prada. 
Advertisement
2. Toilet Papers
The truth is that for years toilet paper manufacturer Have been selling less
product and masking the shrinkage with hyper bowl and hard to quantify claims. 
According to John T Kerrville a marketing professor at Harvard business school,
"they get away with it because consumers have a better grasp
of how much an item cost than they do of the size it should be,
they have in their minds that this toilet paper cost 79 cents and that one cost 89 cents.
They are not taking into account that one has fewer sheets". 
READ ALSO: Top 10 Facts About Antarctica
In fact the average toilet paper manufacturer reduce the number
of Sheets in their roles were margin of 15% sometimes inflating the price in the process. 
Advertisement
1. Movie Theatre Popcorn 
It's been estimated that movie theaters make an 85% profit at the concession stand on over priced soda,
candy, nachos, hotdogs and of course popcorn. 
Movie theater popcorn has been called one of America's biggest rip
offs with a retail price of nine times what it cost to make.
In 2012 after a Michigan man sued The movie theater for overcharging customers on snacks,
one theater owner spoke up in defense of charging eight dollars for a Coke and a box of goobers. 
The majority of a price charged for a movie tickets,
he explains goes to the studios and distribution company not the theater.
Theaters it's been said are really in the popcorn and candy business,
the showing your films is just an excuse to gather a crowd and try to
sell them battery snacks and sugary drinks. 
Advertisement
EDITORS PICK :
The top 10 deadliest snakes in the world
Advertisement
Around the world, there exists a little of snake species which are capable of causing harm or even death to humans. These species not only have a lethally bite in/ and of itself, but also most of them considered as venomous snakes and cause the highest rates of human deaths due to their violent behavior and potent venom. This article illustrates and explains the 10 deadliest snakes which are currently known to exist, based on an analysis of both the overall toxicity and potential for human mortalities in the absence of medicines or appropriate antivenom.
What are the world's deadliest snakes? From the Black mamba to the Inland Taipan, here are ten of the deadliest and most dangerous snakes on the planet.
10. Black mamba ( Dendroaspis polylepis)
The black mamba is a species of extremely venomous snake that locates in sub-Saharan Africa. This particular serpent can exist in both grounds as well as trees usually found along savannas, woodlands and forests. These snakes primarily depend on birds and other small animals.  The mamba is also considered as one of the longest deadly snake in the world which is approximately 10 feet in length and some have even reached lengths of closely 14.8 feet.  Their colors can vary into grey, olive or dark brown with adults being far darker than young mambas.  Because of the color of its inner mouth- a gaping black maw it displays when threatened, is one of the reasons why it acquires the name black mamba.
The black mamba, unlike other snakes, usually brings about multiple bites when it strikes. Its venom, primarily a neurotoxin induces symptoms within about 10 minutes and is fatal if treatments not provided rapidly.  Like many other venomous snake bites, a black mamba doesn't cause in local swelling and necrosis rather causes severe tingling, neurological dysfunction, blurred vision and paralysis of the respiratory system. Not only that but also extreme drowsiness, inability to speak, nausea, vomiting and extreme sweating are also common.
9. Belcher's sea snake( Hydrophis belcheri)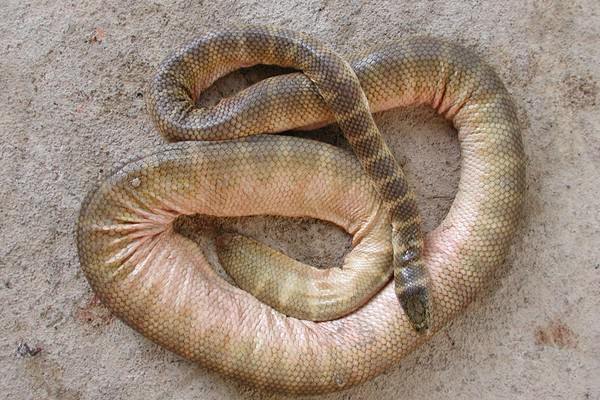 The belches' sea snake is an extremely venomous snake and considered as one of the most poisonous snake in the world. The snake is relatively small in size; 1.5-3.3 feet in length with a slender body and a yellow base with green cross bands. It exists commonly in the Indian Ocean, as well as the Philippines, gulf of Thailand, the Solomon Islands and the northwest coasts of Australia. The belcher's sea snake is so poisonous that a single bite can kill a victim in less than 30 minutes. Its venom consists of high levels of neurotoxins and myotoxins. It is studied that one drop of its venom is to be strong enough to kill 1800 people. Symptoms include extreme abdominal pain, extreme bleeding, renal failure and respiratory failure.
Advertisement
8. Philippine cobra ( Naja philippinensis)
Philippine cobra, which is a highly venomous species of snakes, exists in the northernmost corners of the Philippine islands. The species is quite sturdy and owns a hood that can be raised when in danger. The average length of this cobra may reach to approximately 3.3 feet and more likely to be brown in color.  These snakes have a neurotoxin that directly affects the respiratory system and the venom is extremely powerful. It is known to cause paralysis of the neuromuscular system.
Symptoms of a cobra's bite often appear very rapidly within about 30 minutes and these include vomiting, migraines, abdominal pain, dizziness and also difficulty in breathing.
The venom itself is deadly means the potential treatments are not always successful and usually results in death. Apart from biting the Philippine cobra even has the ability to spit its venom to potential victims which cause serious damages to the eyes which results permanent blindness.
7. Death Adder ( Acanthophis antarcticus)
The death adder is considered as one of the deadliest elapid snake found in Australia, New Guinea and the surrounding region. This species has a viper-like appearance. Death adders are quire short in which can grow at least 1.3 feet in length. They possess triangular heads and small scales adorning their bodies. Also they own large fangs and can take on a reddish yellow, brown or greenish-grey hue. The death adder often lies in wait for its prey and ambushes possible victims with lightning-fast attacks. It is very amazing how the death adder can strike its target and inject its venom within seconds.
Advertisement
The death adder as the name implies, has a deadly neurotoxin which often causes paralysis as well as a complete respiratory system shutdown and ultimately results in death within 6 hours. Although ant venoms have been developed, deaths still happen from their bites as those ant venoms can only be able to slow down the progression of symptoms to a degree.
6. Russell's viper ( Daboia russelii)
Russelss's viper, also known as the chain viper is a venomous snake which is found predominately in Southeast Asia, China, Taiwan and India. Vipers are quite common and are normally found in grasslands or bushy areas and tend to avoid forested regions, as well as marshes. One of the chain viper's primary food sources are rodents. As a result, these snakes are usually found around human settlements. Chain vipers composed of flat, triangular heads, along with rounded and raised snouts. Their color pattern typically yellow, tan and brown and can vary by snake.
These deadly snakes can extend its length until 5.5. Feet. Chain vipers produce a significant amount of venom in their bites, which are deadly to humans in doses between 40-70 milligrams. Commonly, the symptoms include excessive bleeding, a rapid drop in blood pressure, vomiting, kidney failure and also blood clotting. Although an anti-venom is available, the pain upon biting often continues for approximately four weeks and ultimately causes severe tissue damage.
Advertisement
5. Blue krait ( Bungarus candidus)
The blue krait is also a highly venomous snake of the elapid family.  It can grow at least up to 3.6 feet in length and upholds a color pattern of bluish-black cross bands which are separated by yellowish-white interspaces. The blue krait is found principally in Southeast Asia including Indonesia, Thailand and in often near rivers, lakes and ponds. It mainly feed on mice, other snakes and small rodents. The blue krait's venom is highly potent and consists of extremely powerful neurotoxins that has the ability to paralyze its victim's muscular system resulting inability to speak or think clearly also when upon attacking to respiratory system causes suffocation resulting inability to breath.
4. Inland Taipan (Oxyuranus microlepidotus)
The Taipan is considered as one of the deadliest snakes in the world today because of its severity in venom. It can reach up to 5.9 feet in length and primarily depends on rats along with other small animals. The Taipan resides mainly along the northeast coast of Queensland, as well as the southern sector of Papua New Guinea. Its venom contains high level of neurotoxins and even from a one bite can cause headache, convulsions and respiratory paralysis within 1-2 hours.
Advertisement
3. Eastern brown ( Pseudonaja textilis)
Eastern browns reside in nearly all environments, except for dense forests around Australia and southern New Guinea. They are most common around farms as they mainly consume house mice.
This extremely deadly serpent is quite slender in appearance and can reach an average length of 5.0- 6.6 feet. As the name implies, eastern brown is typically brown in color and may have blackish appearance as well. They are well recognized for their small fangs, dark tongues and dark black eyes. They tend to be more active during the daylight hours. The venom of this snake is extremely deadly but it has been investigated that the bites from this snake have a fairly low mortality rate –approximately 10% – as the snake does not typically deliver a high volume of venom with each bite. Symptoms include a sudden drop of blood pressure, severe bleeding, heart failure and kidney failure. Depending on the amount of venom injected during the bite, some individuals may develop symptoms very rapidly within minutes.
Advertisement
2. Tiger snake ( Notechis scutatus)
The tiger snake is another highly venomous serpent which exists along the southern sector of Australia and Tasmania particularly in coastal regions, wetlands and marshes. Depending on their location, these snakes consists of large variety of colors like olive, yellow, orange, brown and black. It can reach its length up to 3.9 feet. Considering the venom of tiger snake, it is composed of highly potent myotoxins, neurotoxins and coagulants. Symptoms of their bite may include extreme pain in the neck and the foot, paralysis and of course trouble breathing. Fortunately there is effective anti-venom and it may save the life if provided in time.
Advertisement
1. Rattlesnake ( Crotalus scutulatus )
Rattlesnake, also known as Mojave green, is one of the highly deadliest and venomous pit-viper species. They inhabits primarily in the desert regions of the southwestern United States and also central Mexico. Most of the Rattlesnakes grows around 3.3 feet in length. The snake's color fluctuates from light green to brown, letting to easily blend with its nearby surroundings. However, Bites from the rattlesnakes often have delayed symptoms, but within hours or so vision problems, muscle weakness and also difficulty in swallowing can be happen. Besides, the venom usually causes difficulty breathing and thus leads to respiratory failure and ultimately to death. Furthermore the fatalities relatively rare now because of the finding of CroFab anti venom which gives highly effective neutralizing effects.
Advertisement